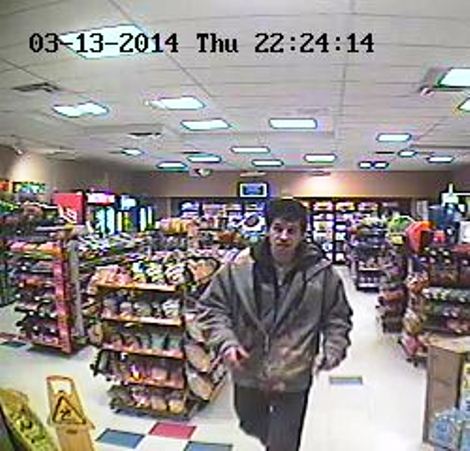 North Bay Police Service
News Release
*****
At 11:15 p.m. 13th March a man entered a convenience store on the 500 block of Lakeshore Dr.
He asked for several scratch tickets, then crossword tickets and finally a pack of cigarettes.
When the cashier starts totalling the items he grabbed the items, walked out of the store where he jumped into the passenger side of a pick- up truck and sped off.
This same scenario was repeated at 11:38 p.m. on the 13th Mar at a convenience store on the 1800 block of Obrien St and again at 1:02 a.m. on the 14th Mar at a store on the 600 block of Cassells St.
The male is described as; male, white, 5'8" to 5' 10" tall, skinny build, dark hair, scruff beard, wearing a light coloured hoodie style coat, ball cap and blue jeans.
The truck is described as a newer model 4 door pick-up.
Cst Geoff Whittle is investigating.
Anyone that can identify the subject in the photos is asked to contact their local police agency, the North Bay Police or Crime Stoppers.
Near north Crime Stoppers at 476-TIPS (8477) or 1-800-222TIPS (8477) Submit tip online at our website www.nearnorthcrimestoppers.com All tipsters remain anonymous
*****