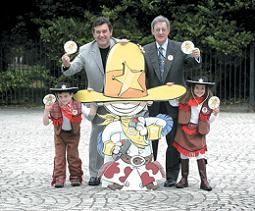 North Bay Police Service
News Release
*****
Beginning Friday April 25th, 2014, North Bay Police will conduct a week-long distracted driving and seatbelt campaign in North Bay and Callander.
Officers will specifically target drivers who illegally use mobile phones and other hand-held communication and entertainment devices to talk, text, type, email, play music or view display screens while driving.
Police officers will also be on the lookout for drivers and their passengers who are not using or improperly using seatbelts.
Highway Traffic Act Infractions:
During this campaign, police officers will be enforcing the Highway Traffic Act and may issue Provincial Offences Notices to any driver who is observed committing an infraction.
Fines
1. A driver illegally using a handheld communication device while driving can be fined $280.
2. A driver who fails to properly wear a seatbelt can be fined $240.
3. Passengers aged 16 and over who fail to properly wear a seatbelt can be fined $240.
4. Drivers with passengers under 16 who are not properly wearing seatbelts can be fined $240.
5. Drivers with child passengers who are not properly secured can be fined $240.
Interesting Facts about Distracted Driving (Source: Ministry of Transportation Ontario)
• When drivers take their eyes off the road for more than two seconds their crash risk doubles.
• Drivers who use handheld mobile phones while driving are four times more likely to be in a collision than a driver who is focused on the road.
• At highway speed, a driver sending a simple text message travels the length of a football field without looking at the road.
Buckle Up! One person, one seatbelt.
(Source: Ministry of Transportation Ontario)
Proper use of seatbelts
• Shoulder seatbelts should be worn closely against the body and over the shoulder and across the chest, never under the arm;
• Lap seatbelts should be firm against the body and low across the hips, not across the stomach;
• A seatbelt should not be worn twisted, as the full width of the belt is required to spread motor vehicle collision forces across the body.
• Drivers can be fined for failing to properly use their seatbelts and/or failing to properly secure passengers under 16 years of age; and
• Passengers who are 16 years of age and older can be fined for failing to properly use their seatbelts.
Pregnant women
Pregnant women must wear seatbelts and sit as upright as possible. Lap seatbelts should be worn low so it pulls downward on the pelvic bones and not directly against the abdomen.
Children and seatbelts
• Drivers are responsible for ensuring that all children under 16 years of age are properly secured in a motor vehicle;
• Babies, toddlers, pre-schoolers and primary-school aged children must travel in the appropriate child car seats or booster seats;
• Children under 13 years of age are safest in the back seat of a motor vehicle, away from any potential point of impact.
• To effectively use a seatbelt, a child must be able to sit with legs bent comfortably over the vehicle seat and with his or her back fully against the back of the vehicle seat. The lap seatbelt must cross over the hips (not the stomach) and the shoulder seatbelt must cross between the shoulder and the neck.
*****