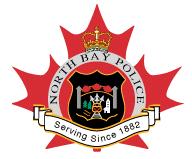 North Bay Police Service
News Release
*****
On March 5, 2014 the North Bay Police Service responded to a suspicious person call at a local elementary school and a public safety alert followed.
Subsequent investigation has determined that this was case of mistaken identity and that the person seen in the school was a parent with his own child.
Police would like to thank the school staff and members of the public for their cooperation and assistance in this investigation.
*****
At 8:20 a.m. on the 5th March an unknown male was observed inside E.T. Carmichael School.
He was walking hand in hand with a 4 year old towards the kindergarten room, then changed direction and walked towards the school lobby.
When approached by the 4 year old's teacher the male let go of the 4 year old's hand and left the area.
The male is unknown to the school or to the 4 year old's family.
He is described as; male, white, 20 years, medium build, 5'4" tall, possible light brown hair, wearing a ¾ length green winter coat with a fur trimmed hood, and brown or black pants.
The North Bay Police are asking parents, teachers, and the public to be extra vigilant where children are concerned.
Anyone that has information related to this incident or any other similar circumstance is requested to contact their local police agency.
Cst Scott Berry is investigating.
*****