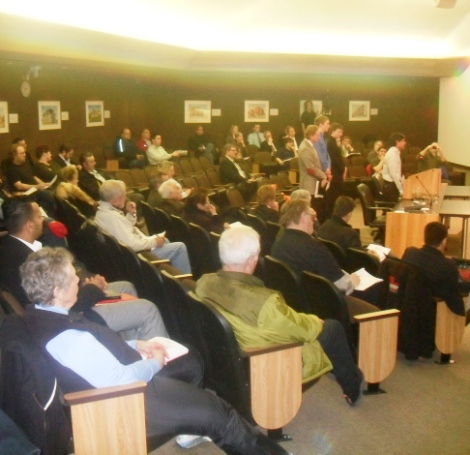 North Bay City Council had a full agenda during Monday's city council meeting, with numerous presentations being made by members of the community and viewed by a large number of residents who were in attendance.
The North Bay Robotics Team 1305 started the evening's presentations, informing council that they will take part in the 52ndannual Regional Science Fair, which will be held at Nipissing University on April 1st, 2014.
Mike Blair, Vice Chair of the Professional Engineers of Ontario, wanted to promote getting young people involved in various fields of Science and Technology, as well as to highlight Team 1305's leadership and teamwork skills.
An interesting presentation came from a member of the community, who requested that council consider moving fund for community economic development into a private organization funded by local businesses, similar in nature to the North Bay Chamber of Commerce, who would then have control over the allocation of monies for members of the community and local businesses.
A fiery presentation came from retired high school teacher James Brian, who made a plea that council, be more forthright in their dealings with the community regarding the overspending and appropriation of non-approved funds for construction to the Memorial Gardens, a project that went exceedingly over budget.
The evening also saw a presentation regarding the still very much behind schedule and under constructed Lakeshore Drive Project, which is continuing to impact business within that area.
Business owner Case L'Ami was at council again to vent his frustrations with regards to city written contracts that seem to lack traction or teeth in getting things done in a promised and timely manner.
Council also saw more debates about the rezoning and development of St. Rita's Church, located on Douglas Street, which council put back into committee in order to discuss the issue at a later date.
Modifications to the church, which includes developing the property into apartments, is being contested by former parish members, who feel that the area has been sold out from beneath them despite its long history in the city, particularly of those of Italian heritage.
Parking is also an issue to those who live in the neighbourhood, who fear that the redevelopment will create excessive congestion in the area.
It was debated during council as to whether or not the church could be removed from its current site and placed onto the cemetery portion of the land to allow a new building to be the residential space while maintaining some of the areas religious history.
With all of the evening's presentation's now aside, council was able to pass a municipal by-law that will see an increase in fines for excessive noise violations, in the amount of $200.
As well, council discussed the option of creating a stabilization fund to offset the possibility of large fluctuations in water and sewer rates, which could be seen to some as important when water meters get turned on in the near future.
Finally, reserves to the tune of 1.4 million dollars were set aside from projects that came in under budget in 2013, which in turn, could be used to offset tax levies in 2014.