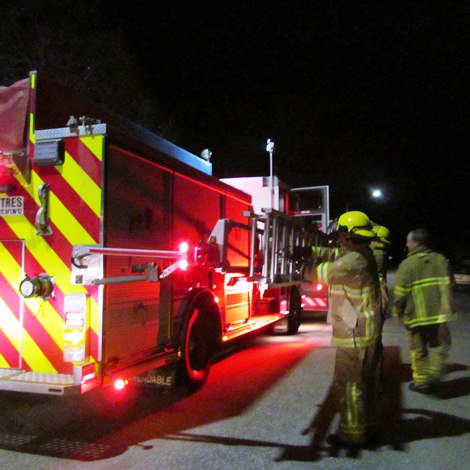 A chimney fire spoiled the end of the NHL game for the residents at 6 Sergio Cr. Thursday night.
North Bay Fire crews were dispatched at 10:24 p.m. and cleared the scene just shy of an hour later.
"We had sparks and smoke coming out of the spark arrester at the top of the chimney," explains Platoon Chief Stew Mossington.
"Which had us go up on the roof where we used a special application nozzle to introduce water all the way down the chimney line and it puts the fire out in the liner right down to the fire box. I had the interior crew go in and clean out the fire box, make sure there was no excessive heat source from that."
"We just made sure all the embers were out and let it breathe out. Everything is good. No smoke got into the house."
Mossington says the fire is most likely from build-up in the chimney.
"He said his wood was a little green when he got it late in the season so it didn't have a month or so to cure up properly before the cold set in so it got frozen wet and hence when you get a fire going it's hard to get a hot fire going so it's slower and it tends to get that creosote build-up at the top of the chimney."
Mossington says his crew did a great job at containing the fire to the fireplace.
There was no visible damage however, the home owner will have to bring in an inspector to see it there was any damage done to the clay liner.