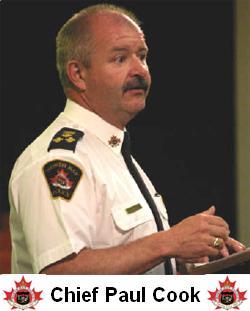 Ontario's Police Chiefs are stepping into the political arena by asking the leaders of the three major political parties to make healthy and safe communities a priority during the current provincial election by supporting three critical community safety issues.
Yesterday, in a letter to the leaders of the Liberal, Progressive Conservative, and New Democratic parties, Chief Paul Cook, North Bay Police Service and President of the Ontario Association of Chiefs of Police (OACP),http://www.oacp.on.ca/ asked for the three party leaders to make a commitment to:
Opening the Police Services Act to address a number of critical issues, which can only be dealt with by legislative change;
Continuing the Future of Policing Advisory Committee (FPAC) process, a provincially-led review of policing, and ensuring that the process focuses on long-term issues in order to support strong police services that can meet the changing community safety needs of Ontarians; and
Funding of Government of Ontario programs that ensure police services have the resources to meet the community safety needs of Ontarians
"Our representatives at the Ontario legislature play an important role in helping police serve the citizens of this great province, " said Cook. "As police leaders, we believe all candidates expect to hear from us about what issues they should consider during this election."
The OACP also released a video yesterday in which Cook outlines the details on the three issues provided to the political leaders for their consideration.
You can see the video at http://northbaypolice.ca