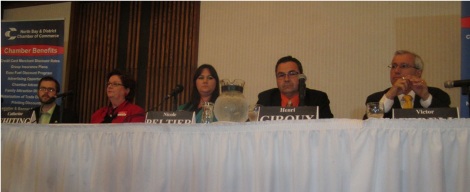 Five of the six candidates await questions during the North Bay and District Chamber of Commerce event. Submitted photo.
Five of the six candidates for the upcoming provincial election squared off Wednesday night during the North Bay and District Chamber of Commerce "Meet the Candidates" event.
Libertarian candidate Derek Elliott, Green Party candidate Nicole Peltier, NDP candidate Henri Giroux, Liberal candidate Catherine Whiting and PC candidate Vic Fedeli tackled questions from a panel and the public on an array of topics from job creation, health care, the ONTC, the Ring of Fire and youth retention.
Independent candidate Pat Clement was a no-show. "I'm sorry I missed it, but I had a personal matter to attend to, he told BayToday. Clement also said the $200 fee is a steep price for independent candidates to pay, when other candidates have theirs paid by their parties.
"Our biggest opportunity in helping to promote jobs for our youth and keep our youth here is the development of the ring of fire," said Whiting.
"The Green party platform states that we would like to see a social innovation fund for business development," noted Peltier.
"We have this misunderstanding that governments create jobs. What creates jobs is spending in the economy. When we put money into a business, that creates jobs. If we cut down on the taxes people are paying, then they are going to have more money in their pocket and will be spending more money which means more jobs will be needed," Elliot told the crowd.
"We need Ontario Northland to be the economic engine that ignites the spark there in the Ring of Fire, says Fedeli who is lobbying to have stainless steel made here in Ontario. that product uses chromite and nickel, both of which are in great abundance in the Ring of Fire.
"Also what we have to do is we have to make sure we have a "best buy" Ontario regulation because at the end of the day the product has to be done in Ontario, not shipped out of town or shipped out to the states," states Giroux.
Once the candidates got into the flow of open debate, the debate saw lively exchanges between all five hopefuls. At times they were drowning each other out.
Approximately 150 people, most apparently affiliated with a candidate, turned out to hear from the locals on the issues that matter most to them.
For university student Steven Smits, who is voting for the first time, the debate was an opportunity for him to get to know the platforms and who the candidates are.
While no one threw a knockout punch, Smits says the Green Party candidate certainly caught his attention.
"I wasn't really sure who I was going to vote for and I'm still kind of unclear because of some of the bickering that went back-and-forth," he told BayToday following the event.
"But the main reason that I came tonight was because I wanted to become educated-- an educated voter -- it's my first time voting in the provincial election and I'm really looking forward to that aspect of it … and just really making sure that younger people in the riding have a voice in the upcoming election."
"The candidate that caught my attention was Nicole Peltier just because she was doing really well with the older candidates and just tried to keep the bickering to minimum. I'm not entirely sure if I support the party and what they believe in and their leader, but she definitely caught my attention and I still have to make an educated decision yet."
University graduate Joshua Pride left the debate feeling that there is no place for the voices of young people and young professionals in North Bay and Nipissing.
"Having participated in several political simulations, and after five years away at university, I was excited to attend my first political debate in my hometown; however, I quickly realized that the focus of the evening was not on political issues and policy, but the entertainment value of a poorly executed debate."
"My question to the candidates was silenced on debate night by the moderator. Amongst the talk of jobs in the "Ring of Fire," my question concerned the place of young professionals in Nipissing; those pursuing a university education."
"I wanted to know what each candidate planned to do to keep our young professionals, and to bring those of us who left, in North Bay after completing our degrees. I asked this question so that people like me, the many children and grandchildren who are completing their university education, could become better informed on what each party planned to bring young professionals home to contribute to our community."
"Wednesday night highlighted everything wrong with politics today: that candidates can bicker and yell back and forth and all over each other, and that reasonable questions are silenced for the sake of time. I left the event with the feeling that this debate was all about entertainment value, and not about allowing candidates to share their ideas and platforms in a public forum."