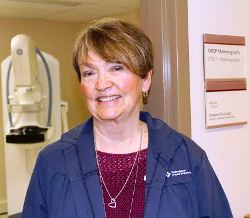 North Bay Regional Health Centre
News Release
*****
Pat Marshall (pictured) is not only a volunteer at the Ontario Breast Screening Program (OBSP)—but she is a regular patient too.
Marshall has been volunteering for the OBSP at the North Bay Regional Health Centre (NBRHC) for almost seven years now, and she also uses the services herself every year.
"I make sure to come myself as a patient on an annual basis—because of my family history. It's one thing I do to keep myself healthy and well," she says.
If you're a woman 50 or over who has never had a mammogram, May 5th is the day to make time for you and your health!
OBSP locations in communities across the north east each year participate in a 50 over Fifty Challenge Breast Screening Marathon.
Women over the age of 50 who have never had a mammogram before are encouraged to come in and be screened without an appointment.
The goal is the screen 50 women within a 12 hour period between 7:30 a.m. and 7:30 p.m.
Even if you have already had a mammogram, you can encourage your friends and loved ones who are 50 years of age and older who have never had a mammogram to be screened too.
Marshall says she regularly shares with her friends and family the reasons she both volunteers and uses the services of the Breast Screening Program here in North Bay.
"I enjoy volunteering at OBSP because I like meeting people and it's a warm and friendly atmosphere," she says. "As a patient, regular breast-screening is not hard to do and the staff at the OBSP are knowledgeable and supportive."
Early detection saves lives!
For more information about the 50 over Fifty Breast Screening Marathon or the Ontario Breast Screening Program at the North Bay Regional Health Centre call 705-495-7930 or visit our website www.nbrhc.on.ca
*****