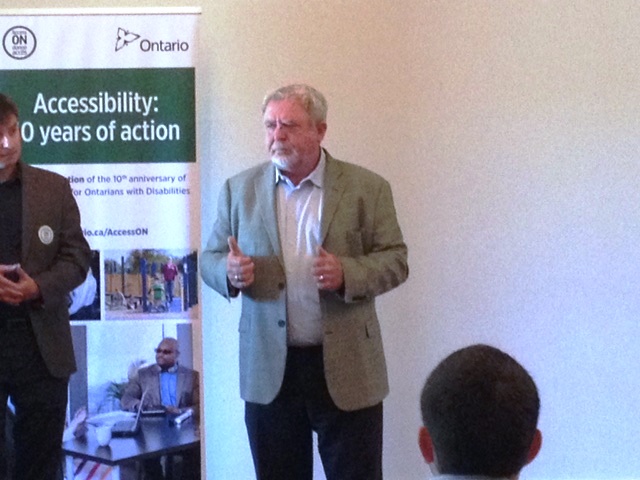 Mark Wafer explains the business benefits of hiring workers with disabilities during a conference in North Bay Wednesday. Photo by Dennis Chippa
Mark Wafer knows why businesses don't hire more people with disabilities, but he really doesn't understand it.
Wafer runs several Tim Hortons restaurants in the Toronto area, and has hired over 160 people with disabilities in twenty years.
Currently, almost 20 per cent of his staff have some form of disability, encompassing physical, intellectual or mental health.
Wafer, who has about twenty per cent hearing, says the business benefits outweigh any business concerns.
"The most important thing though is from the standpoint that you have lower turnover, you have low absenteeism, you have better safety, you have better innovation, and you have greater productivity."
Wafer says workers with a disability are used to being safe and having to innovate in their day to day lives, so they are more safe when they come to work, and often more innovative.
Wafer spoke in North Bay Wednesday at a conference to celebrate ten years of the Accessibility of Ontarians with Disabilities Act, set up to make the province fully accessible by 2025.
Wafer, who travels all over the world talking about the business benefits of accessibility says staff with a disability, given a chance to perform can outperform their co-workers, and tend to be more loyal.
Wafer says the biggest battle people with disabilities face in business is a myth that accommodating a disability is expensive.
"The actual cost if a person truly needs it is five hundred dollars or less. Sixty per cent of the people with a disability who get into the workforce don't need an accommodation at all. The most expensive accommodation is extra training or more time off, which for most companies is easy to do and cost effective. "
Nora Long, from North Bay's Municipal Accessibility Advisory Committee, says she hears the same concerns Wafer does.
She feels local business owners want to improve their accessibility, but they fall for the myth of expensive accomodation, even when it comes to putting a ramp into their business to allow wheelchair access.
"They don't have to be state of the art steel or spectacularly polished or anything, they don't have to be. A simple ramp, get someone to build it for you. A sheet of wood, a hammer and some nails, and it's going to make a world of difference."
Alfred Spencer, Director of outreach and strategic initiatives at the accessibility directorate, says the first ten years of the AODA have been a real education for all Ontarians.
But the ten years truly just represent a start.
"Where have we been, what have we done right, what do we need to change. I think what we now need to do is sort of sit down and say what do we want the next ten years to look like. I think we need to look at the AODA not as the solution but as the foundation so that we build from the foundation of the AODA into what we're calling accessible Ontario."
Spencer looks to the Parapan and PanAm Games this summer in Toronto as a real watershed moment for accessibility, where Ontario can show its progress to the world.
For Long, making North Bay more accessible starts with residents understanding the day to day life of those living with a disability.
"You know, we walk up to a door we turn the doorknob, we walk through. No big deal. Someone without that functionality may not be able to turn that doorknob. So a simple doorknob can make the world accessible."
Accessible, and according to some in the business community, profitable, at a time when no businesses want to make getting into their shops tougher.