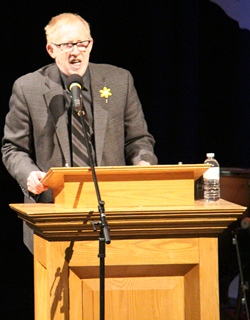 Canadian Cancer Society top gun CEO Ontario Division Martin Kabat was in North Bay Thursday to pay a special visit to West Ferris Secondary School.
The purpose of his visit is to recognize West Ferris students, past and present, for the over $200,000 that has been raised to support cancer research over the last 20 years with the Annual Trojan Parade for Cancer.
Kabat told the students 70 years ago kids who were diagnosed with cancer died today it is a rare occurrence.
He says he will return to his office with a sense of renewal knowing that kids do care and that they are the key to turning the corner that will see cancer a chronic illness versus a terminal one.
"Getting recognized by the Canadian Cancer Society is a tremendous honour for the Trojan community," said West Ferris principal Sean Ruddy.
"My grandmother had bladder cancer twice so it is important to help cancer patients," said grade 12 West Ferris student Madison McIssac.
Trojans hit the pavement for the 21st edition of Annual Trojan Parade for Cancer May 13th.