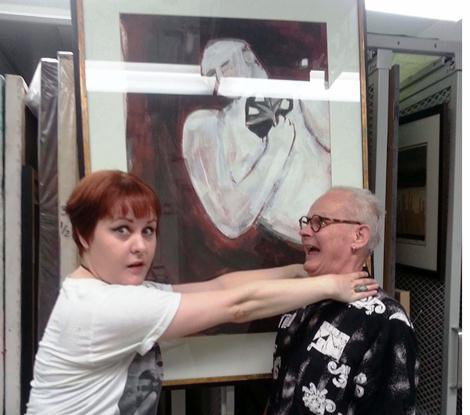 Alex Campbell pictured with her artist father Keith has been named Gallery Officer of the WKP Kennedy Gallery
The Capitol Centre
News Release
*****
As one of the long standing establishments promoting visual arts in North Bay, the Capitol Centre is pleased to announce that Alex Maeve Campbell is the newly appointed Gallery Officer of the WKP Kennedy Gallery.
Alex Campbell has a long standing passion for visual arts, and working in the WKP Kennedy Gallery has enhanced that greatly. Having served as production editor of Descant Magazine beginning in 2003, she quickly gained recognition and soon became the circulation manager.
In 2008 Alex took the next leap in her career, becoming the WKP Kennedy Gallery Coordinator.
Since becoming the Gallery Coordinator, Alex has successfully helped bring many unique exhibitions to the Gallery, as well as created numerous special Gallery events for North Bay and area, including the ever-expanding Downtown Gallery Hop.
"As an artist and project curator, I have worked closely with Alex over the years," says Sylvia Antinozzi. "In my capacity as chairperson of the New Advisory Committee, I look forward to supporting Alex in her new role as a Gallery Officer and her visions for the future of the gallery."
The WKP Kennedy Gallery recently received its 2014 funding from the OAC and having Campbell's appointment advances the completion of the criteria necessary for maintaining the status of a public art gallery.
The Gallery Officer's role is meant to further build upon and enhance the gallery and its many unique exhibitions, as well as provide further artistic growth within the community. Moving forward, Alex Campbell is looking forward to creating a revitalised Gallery in which continues to encourage public participation, and further allows for creative and educational
endeavors within North Bay and area.
In doing so she hopes to encourage active artistic participation within the community, in order to create a new generation of artists and arts patrons.
"We are very proud to welcome Alex to the role of Gallery Officer," says President Blake Beam.
"Her talent, enthusiasm, and contacts in the community have always been assets to the WKP Kennedy Gallery, and we're very pleased that she'll be able to continue to demonstrate these skills in her new position with us."
The WKP Kennedy Gallery has been a part of the Capitol Centre since it's opening in 1987.
Since then, it has undergone many changes, but has always been an integral part of North Bay and areas artistic community. The Capitol Centre and its public art gallery, the WKP Kennedy Gallery are looking forward to building upon North Bay's rich and vibrant art and culture community- the newly appointed Gallery Officer being just the beginning.
*****