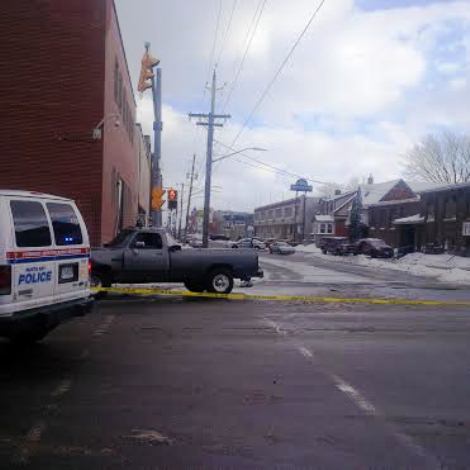 The Butkevich family issued the following statement Sunday evening:
The Butkevich family (Peter, Michelle, Joe (Cherie) and Kensey (Christian) would like to thank the EMS, city police, firefighters, nurses and doctors for their professional and compasionate response to the tragic events on Saturday, Febuary 22nd which saw an out of control truck crash into a female pedestrain (Michelle Butkevich) and proceed to run down and over three young children (the Seguin family children).
Also, we cannot thank the bystanders enough for their efforts on scene to assist, comfort and do what ever necessary to help victims get through such a dramatic situation.
To our family, friends, staff and students at St. Joe's Scollard Hall and citizens of North Bay, we thank you so much for your support and prayers.
Many thanks to the staff on C3 at the North Bay Regional Hospital for their unrelenting care and support.
We are happy to report Michelle has been released from hospital to continue her long road to recovery.
Most important, our thoughts and prayers are with the Seguin family as they come to terms with this horrific event.
Four lives changed forever due to someone's neglect.
This was no accident, it is what it is, a total disregard for human life.
They say time heals all wounds, how much time is anyones guess, but this day will be relived day after day after day by the victims and their families for the rest of their lives.
We wouldn't wish the pain and injuries on anyone since this incident did not need to happen and there is a way a to avoid this from happening again ...STOP TEXTING,RACING AND AVOID ALL OTHER DISTRACTIONS WHEN DRIVING.
My god, we almost lost the lives of three young children with their futures ahead of them and an adult who is committed to teaching and supporting our youth.
Damn, when is the message going to sink in?