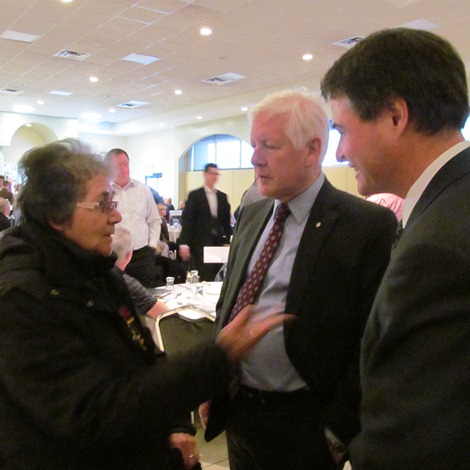 First Nation Chief Marianna Couchie talks with former Liberal leader Bob Rae during the CIM luncheon Thursday at the Davedi Club.
Life for former Ontario Premier and Liberal MP Bob Rae has been anything but quiet since his departure from politics, in fact now he is sitting on the other side of the political table negotiating the future for a number of First Nation communities.
Rae was at the Davedi Club as guest speaker for the local branch of the Canadian Institute of Mining's sold out luncheon Thursday, where he gave an update around those negotiations and the Ring of Fire.
He talked to the audience about the importance of consultation with First Nations and the importance of developing those relationships to be both morally and fiscally responsible when it comes to the future of the mining industry and developent.