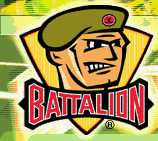 North Bay Battalion
News Release
*****
The North Bay Battalion's game Saturday night against the host Barrie Colts has been postponed because of snow and whiteout conditions on area highways, the Ontario Hockey League has announced.
The game was rescheduled for Tuesday, Feb. 25, at 7:30 p.m.
The Battalion is in second place in the Central Division with a won-lost-extended record of 24-17-6 for 54 points, three more than third-place Barrie, 24-17-3.
The Troops, who have won their last three games and are 8-0-2 in their last 10 at home, host the Peterborough Petes at 7 p.m. Sunday as part of TVCogeco Hockey Day in the OHL. Peterborough is 21-22-4 for 46 points, third in the East Division.
The Petes defeated the Battalion 2-1 in North Bay's home opener Oct. 11.
The Battalion may benefit from the postponement, as right winger Barclay Goodrow is listed as day-to-day with a bruised hip suffered in a 6-2 loss at Peterborough on Jan. 11. Goodrow, the team's leading scorer with 22 goals and 19 assists for 41 points in 43 games, has sat out four of five games since then, including a 5-1 victory Thursday night over the Saginaw Spirit, the former Centennials franchise that made its first visit to Memorial Gardens.
The game drew an enthusiastic crowd of 3,588 as the Troops sported uniforms in the style of those worn by the Centennials when they captured the OHL championship in 1993-94.
Right winger Matt MacLeod returned from an ankle injury to face Saginaw, but defenceman Brenden Miller remained day-to-day with a charley horse. Both injuries were incurred in a 4-3 loss via shootout to the visiting Colts on Jan. 16.
*****
Remember - BayToday.ca' s Mark Pare is live from Memorial Gardens Sunday night as the Battalion host the Petes at 7 p.m.
Join us and follow all the action live at our live blog by clicking HERE.
To purchase tickets online, click HERE.