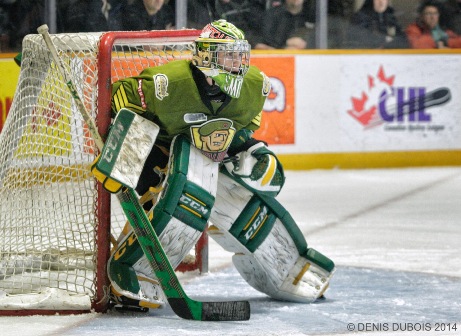 OSHAWA, ON - Nick Paul fought through the Generals defence and beat Daniel Altshuller to break a scoreless tie at 15:40 in the 3rd period as the North Bay Battalion edged the Oshawa Generals 1-0 in game 1 of the OHL Eastern Conference Finals.
Paul, getting behind the defence on a nice Brenden Miller feed, battled the check of Gens defenceman Chris Carlisle and somehow found a way to beat Daniel Altshuller who was solid in goal making 51 saves.
"I knew the puck was rolling so I held it, didn't want to deke and I tried to put it low blocker," said Paul on his game winner during the post game press conference.
Paul has had a penchant for scoring big goals, as one of his other 8 markers this playoff season was the series winning goal in game 7 of the Niagara-North Bay series.
Jake Smith made some solid saves as well as the Generals found the iron twice but nothing past the goal line, as he made 24 saves for the huge game 1 shutout.
"It feels incredible never easy to win in this barn but a good feeling coming out on top," said Smith in a post game interview on Rogers TV.
"We just have to keep working hard and grinding and hopefully we come out on top," added Smith who has shutouts in game 1 in all three series' this playoff season.
Head coach Stan Butler noted the Troops need to stay out of the penalty box and on this night they did, only taking 1 minor penalty in Game 1 of the Eastern Conference Final.
"Their goalie was great and so was ours and we got a break," noted Stan Butler in the post game press conference, adding Smith was excellent on the night.
"We need to continue to play our strong defensive game to be successful," added Butler.
The Battalion win breaks the Generals 8 game playoff winning streak and is their first loss of this playoff season.
Generals head coach D.J. Smith felt his team got away from the game plan in game 1.
"For the most parts tonight we tried to score a little bit too much off the rush tonight, that's not the type of game we like to play but certainly we will look at it and change some things for game 2," said Smith in the Post Game interview.
Game 2 of the series will take place on Sunday at 6 pm in Oshawa, where the Gens will welcome the return of captain Scott Laughton, who sat out the final game of his 3-game butt ending suspension in game 1.
The Troops will return home now gaining home ice advantage for game 3 which will take place on Tuesday night at Memorial Gardens.