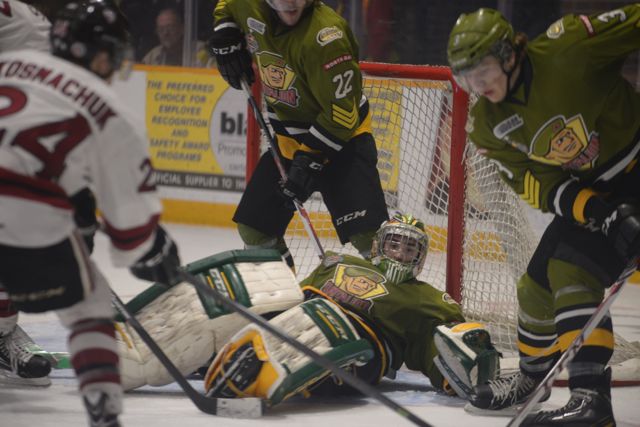 THE TROOPS TRY AND CLEAR THE PUCK AWAY FROM THE GUELPH STORM DURING GAME 4 ACTION. PHOTO BY LINDSAY SARAZIN.
Kerby Rychel's ability to follow a play to the net was on full display when it mattered most.
He grabbed two third period goals off rebounds, including one with 33 seconds left to propel the Guelph Storm to a 4-3 win over the North Bay Battalion and capture the OHL Championship Friday night.
"Two big stories in the OHL, one of those has been the Battalion move to North Bay," Commissioner David Branch said before the J. Ross Robertson Cup presentation.
A big story indeed.
An underdog coming into the OHL Finals, the Battalion weren't given a chance by most but gave the Storm everything they could handle in the five-game series.
Game 5 was no different.
The Troops took the lead on a power play goal by Nick Paul at 16:18 of the first period, sniping a shot from just inside the right faceoff circle but Brock McGinn quickly tied it 50 seconds later with a blast 30 feet out.
North Bay took a 2-1 lead after Brett McKenzie tipped a Marcus McIvor point shot with great precision with a minute to go in the period.
Troops fans know Barclay Goodrow's breakout speed quite well and he used his patented shorthanded breakaway opportunities to his advantage at 6:39, fooling Justin Nichols with a backhand to give his team a two-goal edge.
Ben Thomson thought he had one on the board by going hard to the net later in the period but the goal didn't count after a review.
And much like Games 1-3, the team to score first would end up on the short end of the stick.
Storm captain Matt Finn took a pass from Robby Fabbri in the slot and the Maple Leaf pick went upstairs at 19:00 for a 3-2 game going into the third.
Fabbri put a shot on net that Jake Smith stopped and he got turned away a close rebound from Zach Mitchell as well. However the puck sneaked over to Rychel coming towards the goal and with a gaping net made no mistake.
The game looked as if it was going to overtime but a last-minute surge went to Kosmachuk. He finds Fabbri who whiffs on the shot but it went right to Rychel, who put it by a crowd of people in the deep slot to score the series clincher.
"It's a big relief, these guys deserved it. Everyone doubted our size and our style, we opened the door and gave them good direction," Storm head coach Scott Walker told Sportsnet.
"We don't rely on one guy and want everyone to be responsible. They bought in."
A crowd just over 5,000 watched as the Fabbri took OHL playoff MVP honours.
Battalion head coach Stan Butler told Battalionhockey.com that he is really proud of his players.
"We came in here tonight and we were playing a really good team," he said on www.battalionhockey.com.
"As a coaching staff we believed in this group, and the way they played tonight shows the type of character they have. They played hard all game. I'm disappointed in the result. I think they deserved better and should be playing on Sunday, but sometimes in hockey games just don't go your way, and tonight was one of those. There were a couple of bounces on rebounds on their third and fourth goals when the ice got bad."
Graduating captain Barclay Goodrow went to Twitter to share his feelings.
"Thanks to the @OHLBattalion for everything they have done for me, and all the great fans in North Bay and Brampton, best fans in the league," said Goodrow via Twitter.
"Best 5 years of my life, built so many life long friendships and couldn't have asked for a better finish to my junior career, love the boys," he added on Twitter.
Jamie Lewis, who scored what turned out to be the biggest goal of the year with his game winner in Game 4 of the Oshawa-North Bay series, was emotional as well.
"Happy to call every single one of my teammates family," he stated through Twitter.
"It was a pleasure being on the ice with every one of you. Love you all."
Game Notes
-Jake Smith made 34 saves while Nichols stopped 23 shots.
Around the CHL
Baie Comeau took a 3-2 series lead in the QMJHL Championship series with a 6-5 win over Val d'Or.
Edmonton is in Portland for Game 5 of their series, their best-of-seven tied at two games a piece.
CLICK HERE for the live blog of Game 5.