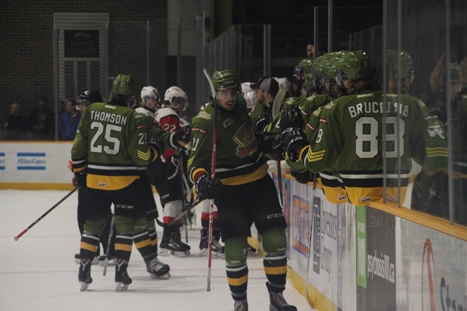 The North Bay Battalion will be looking to grab a huge 2-0 series lead when they face-off in Oshawa at 6pm.
The Troops came through with a 1-0 win in game 1 of their Eastern Conference final courtesy of a Nick Paul goal in the latter stages of the 3rd period.
Despite the low scoring affair, the Battalion certainly took the play to the Generals, who came into game one riding a 8-game playoff winning streak.
The Battalion outshot the Generals 51-24 in the opener for their 3rd straight shutout win to start a series.
The Generals will get a boost Sunday with the return of captain Scott Laughton. He was sitting out the 3rd game of a 3-game butt ending suspension in game 1.
The power forward who played for Team Canada at the World Juniors, and is a 1st round pick of the Philadelphia Flyers back in 2012, had 40 goals during the regular season for the Gens. The big centerman will give the Gens offense a big boost as well as in the face off circle.
Battalion head coach Stan Butler is hoping his squad continues with its disciplined play. The Troops only took one minor penalty in game 1 as they faced the #2 ranked power play in the playoffs.
Game 1 was good news for Swiss forward Vincent Praplan, as he played a strong game in game 2. The Swiss pivot only has 2 points in the playoffs after recording 19 goals and 53 points in 61 regular season games with the Battalion this season.
Forwards Alex Henriksson and Zach Bratina missed game 1 with their respective injuries. Henriksson is out with a lower body injury while Bratina is still dealing with concussion symptoms from a hit in the Barrie series.
Meantime, Henriksson, who has 6 goals in the playoffs, has been out since game 4 in Barrie. Henriksson's new found playoff scoring and his grit would be a nice boost to the Battalion offence. The big Swede only had 11 goals in the regular season.
Keep clicking through to BayToday.ca as we will also have a LIVE BLOG during tonight's game 7 contest. Our Live Blog will begin at 5:45 Sunday night.
You can watch the game at 6 pm on TV Cogeco or listen live on Country 600.