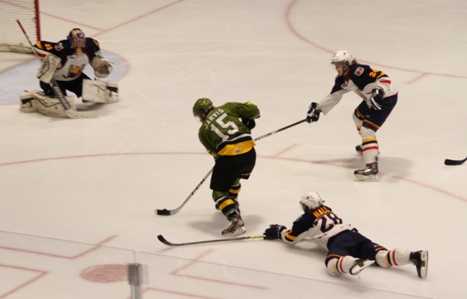 Battalion forward Connor Jarvis breaks in on Colts goaltender Daniel Gibl in the 3rd period. Photo by Chris Dawson.
http://www.baytoday.ca/content/sports/details.asp?c=60726
4-1 final....next game Sunday evening in Barrie.Thanks for checking in. Troops lead series 3-2. Good night!!!!
3 stars 1 Goodrow, 2 McIvor, 3 Paul. Final sog 26-22 Colts.
===
Fans singing Hey Hey Goodbye:) I min left....Gibl still in net.
===
Lewis breaks in alone, takes headshot,loses helmet. Gibl save.
===
Santos off...hooking...PP Barrie
===
Last goal by Thomson, not Goodrow.
===
Troops score again....looks like Goodrow again!!!!!! 4-1 with 5 left
===
Nick Paul hauled down on breakaway....tripping penalty Fawcett
===
Troops Wood off for interference behind Smith.
===
3rd Troops goal by Goodrow shots 19 each...9 min left.
===
Fans now yelling sieve at Gibl....chanting his name.
===
No wave yet tonight, but crowd really into it. Troops score again!!!!!! 3-1
===
Think MacLeod got last one....Smith makes save....loses hat.
===
Puck rolls along NB goal line...being reviewed......no goal!
===
Troops score again...McIvor ...2-1 Troops...what a game.
===
Nick Paul banks it in off Gibl from behind the net. Crowd back in it chanting Gibl.
===
Troops Score off rebound.....1-1......
===
Jarvis breaks in on partial breakaway...toe save by Gibl.15 mins left.
===
Bobby McIntyre trying to rally the crowd. Colts pressing again. Smith good glove save off point shot.
===
Lemieux's 7th of the playoffs and 4th in last 2 games.
===
Well that wasn't the start the Troops were looking for. Got to cut down on turnovers.Wind taken out of the crowd...Colts supporters making lots of noise...no crowd response.
===
Colts Lemieux scores 42 sec. in on a nice wrister from the slot to beat Smith blocker side.
Game underway.
===
My overall impresssion is the game is pretty even...close checking....tempers ready to explode but players realize it could really hurt....big cheer as Troops hit the ice. NB has been waiting a long time for this. Game 6 Sunday at 6 pm in Barrie Molson Centre.
===
3 mins to start of 3rd.
===
Guelph 5-4 over London in the second....hope we see a Troop goal or 2 this period. Battalion have a 53-71 record all-time in the playoffs. Sitting next to Claude Sharma of CTV tonight....he goes solo....shoots, edits and writes the story. What a change from when I worked there 12 years ago....reporters usually had shooters and editors.
===
Kelsey Richard doing intermission interviews has really improved. Crowd involved. Canadian Career College ad playing on big board..congrats on their 30th anniversary tomorrow....great Battalion supporters.
===
Troops are 3-6 when 5th game played at home. Let's hope that changes for the better. They've played the Colts 28 times with a 8-20 record....Yikes!!!!
Sarge tossing T shirts into the crowd...guys got a nice arm...hitting upper seats.
===
2nd Period over...0-0...shots even at 12.
===
that's odd, no goal but no penalty to Lemieux.
===
2 on 1 NB....McKenzie shoots wide...penalty killed. Good work tonight by the specialty team. Smith dumped by Lemieux, Colt's score....ref signals no goal.
===
Smith holding Troops in there. Nice PP by Colts. Shots now 12-11 Colts.
===
Game opening up. Tripping penalty to Wood.
===
Another wasted opportunity...penalty killed. 4:40 left.
===
Garcia interference on Santos. Troops on PP
===
Brenden Miller looks sick or hurt, but staying on bench. 7 mins left. 0-0
Hooey back...Butler juggling his lines. Kyle Locke limited ice tme.
===
Mid period break 0-0...sog 11-6
===
Shots 10-4 Troops with 12 remaining...penalty killed,,,,Troops had best chances shorthanded.
===
London 3 Guelph 2 in the 2nd.
===
Lewis almost gets a shortie....nice applause for his effort.
===
Good chance by Thomson, then takes an undisciplined tripping penalty.
===
Penalties over.
===
Penalties for unsportsmanlike conduct.
===
Haven't seen Hooey yet. Penalty Colts Carrick and Troops Lewis.
===
Athanasiou is back on the bench....game underway!!!
===
Battalion are 5-11 all-time in the fifth game of a playoff...here come the Troops to start the 2nd.
===
Goalie Jake Smith has a gaa of 2.19 and save % of .909. Gibl has gaa of 0 having seen only limited action and save % of 1000.
===
Scott Abbott spends intermissions on his computer.
===
Out of town...London-Guelph tied at 2 in the first period.
===
Congrats to the Strangs...big supporters of Battalion hockey, for being named Kiwanis Citizens of the Year.
===
Hooey looks hurt....fans accuse him and Andreas Athanasiou of diving...Athanasiou goes to the dressing room holding his left arm.
Period over. 0-0....sog 5-3 Troops. This could get ugly very quickly.
===
Good shot by McLeod...Gibl the save. OT heard we may get 15 cm of snow Monday-Tuesday:(
Very close checking...said to Greg Estabrooks we won't see 7 goals against tonight...his reply, we may not see 7 shots!
90 sec. left to ceasefire.
===
Penalty done...4 mins remaining.
===
Troops need to get PP untracked...slow start....as Butler told me after game 2, "what else is new"
===
Troops missing Henriksson's touch around the net. 0-0, 6 to go...sog 4-3 Troops. Penalty to Colts Scott...head shot.
===
Nick Paul some nifty moves killing the penalty....Captain next year? Penalty killed.
===
Penalty to Troops...McKenzie....fans chanting "We want a ref".....officiating a problem last game according to my wife Brenda, who isn't here as I'm covering the game...she's not too pleased as we have season tickets;(
===
First Colt shot at 9:30....gloved by Smith.
===
I'm told that NB leads the league in 50-50 totals,,,well ahead of Barrie in second. Six mins gone, still no Colt shots.Good pressure by Troops now. No sign of game 4 hangover by either team.
===
Sorry hooking to Thomson. Some real pressure by Colts but no shots...penalty over.
===
Toe save by Gibl. Penalty over...just one shot....not a lot of pressure. No shots by Colt yet. Another penalty...high sticking to Ben thomson...crowd very unhappy. 4 mins gone.
===
Close one, puck drops on top of Smith' net and rolls off, the cleared. Penalty Colts, to Zack Hall....more he is off the ice the better...hooking.
===
Great job of anthem by Holly Cunningham and Ryan Marshall. First time I've seen a bongo drum as part of the tune.
Puck is dropped....first SOG to NB.
===
Fan in front of me is holding up a Lemieux, no diving. ha ha....Barrie fans started chanting, NB fans quickly drown them out.
===
Leafs....wait till next season :) Go Hawks....hope Kane and Toews make it back for game one. I'm calling a rematch....Hawks Bruins in the final, although I have enough championship T shirts now.
Both teams lined up to come out....love the way the players fist-bump the fans along the route to the ice....must say the team has done a great job being part of the community.
Linesmen are out...here come the Troops....wow, deafening!!!!
===
Crowd is VERY loud....I've started swearing earplugs.I'll keep an eye on owner Scott Abbott again tonight. His luxury box is right next door.
Leading scorer for NB is Barclay Goodrow with 9 points in 11 games (5 & 4). Inured Alex Henriksson is 2nd with 8 (6 & 2). Nick Paul and defenceman Breenden Miller have six points apiece.
For Barrie, Zach Hall is a monster with 11 points in just 7 games due to injury. Troops will need to check him closely. Andreas Athanasiou also has 11 points...then there is possible #1NHL pick Aaron Ekblad...tough lineup.
Sarge is now out and tank is fully inflated....puck drop in about 5 minutes.
====
Things should settle down tonight after a high scoring, penalty filled game in Barrie....a 7-4 Troop loss. My CKAT radio friend Matt Sookram had quite the experience calling the game. Fights were breaking out and fans threatened the broadcasters...security tried to stop the coverage thinking Matt had started the commotion. The clip can be heard on the radio website.
Troops blew a 4-1 lead last night, so I expect a more defensive Butler-style game. Colts have the momentum for sure, but in junior hockey anything is possible.
===
Refs tonight....a pair of Scotts....Oakman and Ferguson. Starting lineup for the Troops...Jake Smith after surrendering 7 goals last night remains in net. On D, Brenden Miller and Kyle Wood. Up front...Vincent Praplan, Mike Amadio and Matt MacLeod. Other lines are Ben Thomson, Nick Paul and Barclay Goodrow...Connor Jarvis, Jamie Lewis and Matt Santos...Jared Steege, Brett McKenzie and Kyle Locke. Other D pairs...Dylan Blujus and Marcus McIvor, Miles Liberati and Riley Bruce.
No significant injuries to the Colts....Dan Gibl gets the start in goal....opening line is Mitch Theoret, Garrett Hooey and Andrew Mangiapane.
===
First the bad news...get it out of the way....one of the hottest Troops Alex Henriksson is out of the lineup with a lower body injury.
Zach Bratina, the highly skilled left winger is still out with a suspected concussion. Other scratches...Evan Cormier, Shawn Tessier, Mike Baird and Calvin Gomes.
Good news...another sellout North Bay....whoooo-hoooo....way to show those negative nellies.
===
Welcome everyone to game 5. The Baytoday team tonight includes Chris Dawson on video, Kate Adams snapping some stills and grabbing some post game video of coach Stan Butler. I'll do the live blogging and final story.
Teams are on the ice for the pre-game warmup.