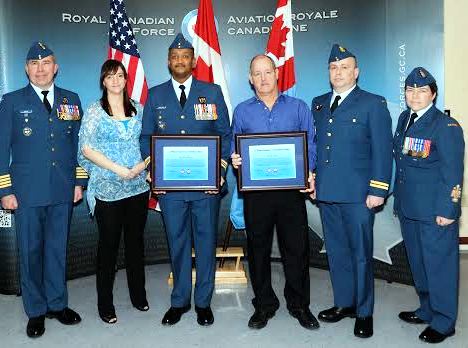 Left to right: Colonel Sean Boyle, 22 Wing Commander, Ms. Stephanie Roberts, Major Mziwoxolo Mbolekwa, Mr. Bruce Hickey, Captain Jeff Roberts and Chief Warrant Officer Colleen Halpin, 22 Wing Chief Warrant Officer. Photo by Corporal Joseph Morin, 22 Wing Imagery Technician
22 WING/CFB North Bay
News Release
*****
Wednesday, Colonel Sean Boyle, Wing Commander, awarded the Wing Commander's Commendations to Major (Maj) Mziwoxolo Mbolekwa, Mr. Bruce Hickey and Mr. Ken Golding (not present) at an Honours & Awards ceremony held at 22 Wing/Canadian Forces Base North Bay.
These men acted quickly to save Ms. Stephanie Roberts and two family pets from the fire that ravaged a duplex residential housing unit on the base on October 23, 2013.
Hickey and Golding, contractors working on the neighbour's house when the fire broke out, risked harm to themselves to rescue the family pets.
Mbolekwa's timely actions enabled Roberts to escape through a second floor window just before the house was engulfed in flames.
Quick Facts
• Joint coordinated response between 22 Wing/CFB North Bay's Fire Prevention Office, 22 Military Police Flight and North Bay emergency services (North Bay Fire Department, North Bay Police Services and ambulance)
Quotes
"The selfless actions of these brave men prevented what could have been a tragic loss of life," said Colonel Boyle, "Even though the building has been demolished since the fire, by responding quickly and without regard for their safety, these heroes preserved what is truly important in life."
"Anyone would have tried to help," admits Major Mbolekwa, award recipient. "I am extremely grateful that the wing has formerly recognized the civilians that played a dramatic role in saving the lives of the Robert's family."
"As the fire was beginning to take hold of our home these men reacted. Because of them two of our pets survived. And if not for the quick actions taken by Mbolekwa, who helped my wife escape through a second floor window, she may not have made it out alive. Words cannot describe how grateful we both are for the actions of these men on that day." said Captain Jeff Roberts, occupant.
*****