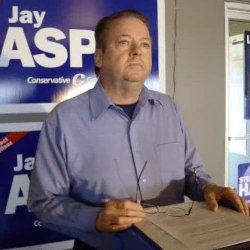 Nipissing-Timiskaming MP Jay Aspin
News Release
*****
Jay Aspin, MP for Nipissing-Timiskaming announced Friday that he has seconded MP Cheryl Gallant's Motion M-452 initiated to place the responsibility for classifying categories of firearms in the hands of a Firearms Experts Technical Committee.
"In 2011 I campaigned hard to abolish the wasteful Liberal Long-Gun Registry," said MP Jay Aspin.
"Once elected, as a member of the Public Safety Committee I helped design legislation to eliminate the wasteful and ineffective Registry. However, it is clear from the recent unilateral and unaccountable reclassification of the RCMP of the Swiss Rifle that law-abiding Canadian firearm owners continue to be discriminated against."
"The rifle was prohibited overnight and without account by the RCMP," said MP Jay Aspin. "It has not been used to commit a single crime. In spite of this the RCMP unilaterally decided to prohibit and start confiscating them, without compensation. Clearly the system is broken and needs to change."
"I applaud Public Safety Minister Steven Blaney for immediately reacting to this issue and setting a 5-year amnesty for all owners of the Swiss Rifle. I am proud to further this action to lend my strong support to M-452," said MP Jay Aspin.
"The intention is to place this motion to establish a Firearms Experts Technical Committee before the House of Commons. This committee would bring civilian oversight to the reclassification process and obligate that this process operate in a more transparent and accountable fashion. I continue to be very clear and keep my promise: the rights of law-abiding Canadian recreation firearm owners and farmers must be protected."
MP Jay Aspin is collecting signatures for a petition in support of M-452. If you would like to sign the petition you can do so by visiting either his North Bay or Temiskaming Shore offices.
*****