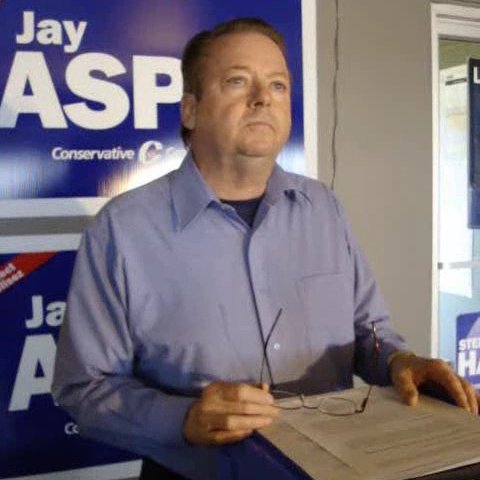 Nipissing-Timiskaming MP Jay Aspin
News Release
*****
Jay Aspin, MP for Nipissing-Timiskaming expressed his support for Economic Action Plan 2014 today for setting the course through a responsible budget to keep Canada moving in the right direction.
"This year's budget will continue Canada's global fiscal leadership. We have been leading the G7 in job creation and debt-to-GDP for some time now.
This budget will deliver job creation and debt reduction which are our government's key priorities.
Reducing the debt plays a key role in job creation as it reduces government expense burdens allowing for more spending on the programs and support, and for job creation.
The budget also sends a strong signal of stability to businesses and investors.
These financial management policies have elevated Canada to be one the best places in the world to conduct business.
Canada is envied around the world.
Most importantly, our government has achieved this result responsibly and not on the backs of taxpayers or irresponsible fire-sales of important government assets.
There will be no reductions in healthcare, equalization, or other transfers. In fact they have all risen. Ontario, in particular will receive $19.2 billion in support from Ottawa in 2014-2015, a 56% increase since our government took power in 2006.
Whereas the opposition parties have continued to push for excess and irresponsible spending, our government has stayed the course, invested in job creating infrastructure and initiatives, and consistently decreased the tax burden on Canadian families.
On average, Canadian families pay $3,400 less in taxes every year as a result of our government's initiatives and commitment to making sure Canadians keep more of their hard-earned money.
This budget focused on crucial initiatives to keep our economy growing. I would like to highlight a few of particular importance to Nipissing-Timiskaming:
· Continued support for FedNor
FedNor plays a critical role in the economic development of northern Ontario and since May, 2011 Nipissing-Timiskaming has received $21 million in support.
- funding for FedNor is secured.
· Creation of a Small Communities Fund targeted for small and rural communities.
- Every community in Nipissing-Timiskaming will qualify for these segmented funds.
· Investing in Rural and Northern Broadband Infrastructure
Just over $300 million will be invested in broadband internet access infrastructure in rural and northern Canada.
- this has been a key need for many Nipissing-Timiskaming constituents
- with this infrastructure 98% of Canadians will have broadband access
· Apprenticeship Loans
Apprentices in Red Seal programs will gain access to over $100 million in interest-free loans of up to $4,000.
- 26,000 Canadian apprentices will benefit and help close skills gaps in Canada
- local businesses have complained about skills shortages, this will help them meet demand and create new jobs
· Canada Jobs Grant
In the next few months the federal government will launch the Canada Job Grant program.
- Canadians and businesses will have access to training grants for up to $15,000
- the province, federal government, and business will contribute up to $5,000 each
- if a province does not sign on the federal government will fund the provinces portionas well
- if a province does not sign on they will not receive the $300 million being transferred to them by the federal government for skills training programs
- the $300 million will instead go directly to paying the share the province would have paid
- the federal government is committed to ensuring Canadians have access to job and skills training and will not allow politics to deny Canadians access to training needed to gain employment
· Innovation, Research, and Youth Employment
- establishment of Canada First Research Excellence Fund
- $1.5 billion over the next decade to universities for grad/post-graduate programs that will create long-term economic opportunities for Canada
- $40 million for up to 3,000 youth internships
- additional $15 million for up to 1,000 internships in SMEs
Canada is on the right track, but we need to remain focused, stay on course, and fulfill our commitments to Canadians."
*****