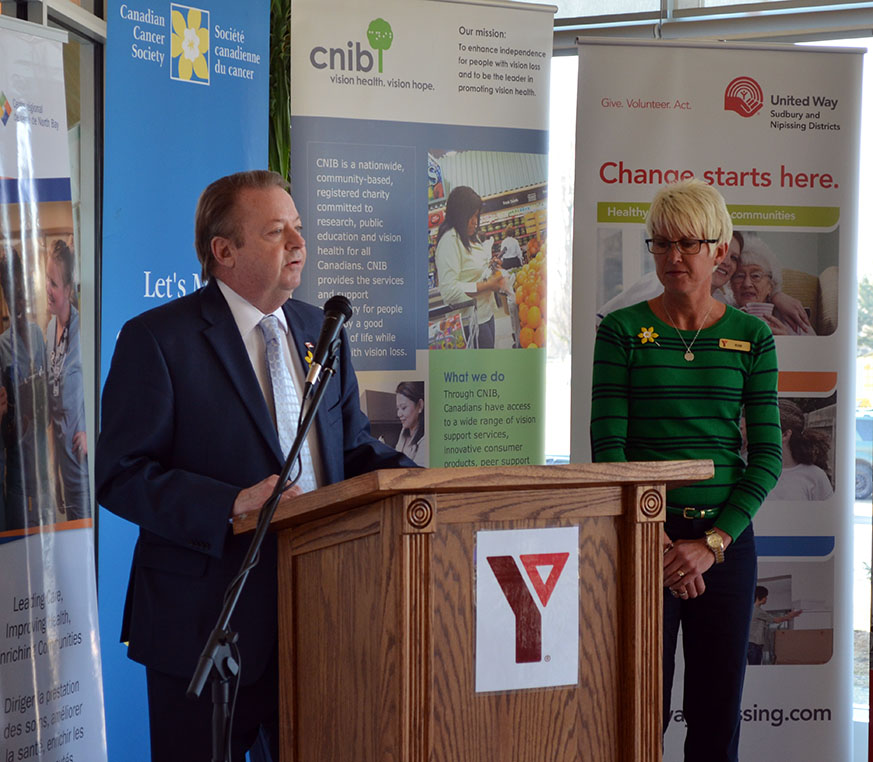 Kim Kanmacher (left) introduced MP Jay Aspin as one of the speakers to commemorate National Volunteer Week. The event was held at the YMCA, where Aspin revealed that the nominations for the Prime Minister's Volunteer Award were now open. PHOTO BY CHRISTINE ROY
During an event commemorating National Volunteer Week, MP Jay Aspin urged North Bay residents to nominate local volunteers for the 2015 Prime Minister's Volunteer Awards.
As of April 13, residents can nominate an individual, a business or a forward thinking not-for-profit organization that makes a difference in the community for the award. Nominations are open until June 30.
This year's National Volunteer Week is from April 13 to 17.
"Volunteers are the heart of our community," stated Kim Kanmacher in a speech launching the start of National Volunteer Week. Kanmacher is the CEO at the YMCA North Bay.
"We would not be able to do the things we need to do to serve our community if it wasn't for the volunteers who give many hours of their time," she added.
The United Way, who were hosting the event at the YMCA, recently organized the Nipissing Volunteer Manager Network.
The network manages 15 volunteer agencies within the area, including the Canadian Cancer Society and the North Bay Regional Health Centre.
"Every year, Canadian volunteers provide close to 2-billion hours from coast to coast, the equivalent of approximately 1-million full-time jobs," Aspin said.
"Volunteers are the lifelines for hospitals, shelters and not-for-profit organizations," he added.
Aspin encouraged all constituents to nominate someone for the award.
The Prime Minister's Volunteer Award consists of 17 awards in total. There are two national awards, one for Emerging Leader and one for Lifelong Achievement.
Three awards are regional with three nominees chosen from five different areas of Canada: Atlantic, Quebec, Ontario, Prairies, British Columbia and the North.
The three regional awards are for volunteers nominated for Community Leader, Business Leader and Social Innovator.

Nominations can be made online or by printing out a form and mailing it to the Prime Minister's Volunteer Award Secretariat. The address is included on the form.
The forms are also available in French.
For more information, see the Prime Minister's Volunteer Award website.