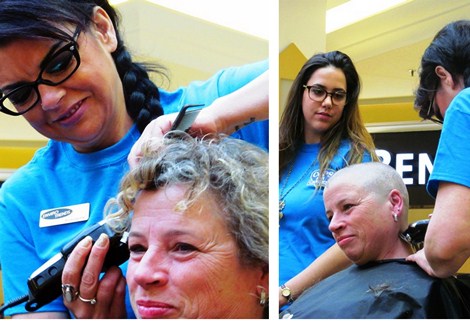 North Bay OPP Officer Carolyn Ward takes it all off for her friend for the annual Cops for Cancer event at Northgate Thursday evening.
With two solid reasons, the loss of her dad and a friend fighting the battle, OPP officer Carolyn Ward says it only took a heartbeat for her to sign up and participate in the annual Cops for Cancer event Thursday evening.
Ward and fellow members of the North Bay Police Service and Ontario Provincial Police gathered at the Northgate Shopping Centre and put on a brave face for the big shearing in support of the North Bay Chapter of the Canadian Cancer Society so they in turn can help folks battling the disease.
"She's fighting the fight … so I said if she can be bald I can be bald," an emotional Ward says.
"It grows back. She doesn't have a choice I have a choice."
Ward gathered $1,640 in donations to take it all off which for her is concerning as it took a year to have enough hair for a haircut after shaving down for cancer 15years ago, but Ward says her friend's battle is reason enough to through caution to the wind.
"Pay it forward."
"Just if you have a friend who is going through something just stay by their side."
Fellow OPP Officer Jeff Dagg shares Ward's sentiments having a family hit hard by the disease as well.
"There's a lot of people who need this kind of help," he says following his turn in the chair.
"This money will help and that's why we're all here," he states.
"You know it's fun to get together with a bunch of people and do something that is perceivably silly but there's a real serious undertone to it I lost my dad to cancer my sisters battling now and you know she's been battling six months and six months from now I'm going to have my hair back and she still going to be battling cancer so that's what this is about for me."
The flagship fundraiser for the Canadian Cancer Society started in June 1994 with just one lone officer, Sergeant Gary Goulet of the Edmonton Police Service, who was inspired to take action when he heard that 5-year-old Lyle Jorgenson was being teased at school because of his hair loss due to cancer.