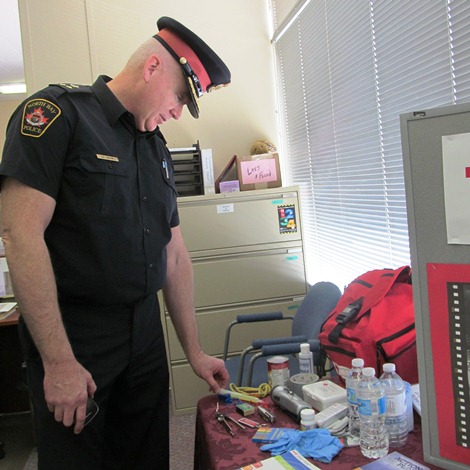 No one knows when and where an emergency will strike so being prepared really is the best line of defence advises the city's front line workers who witness the end results of crises every day.
From going without electricity, having food and water to communication systems Emergency Services personnel shared are a few simple steps folks can take to get you and your family through a disaster natural or man-made as kicked off Emergency Preparedness Week.
Karrie LePoudre with the Red Cross says emergencies can turn worlds upside down in a heartbeat so everyone should make a plan and prepare an emergency kit.
There are a number of items LePoudre recommends people put in an emergency kit to tie them over for at least 72 hours from water to canned food to solar blankets.
"One of the key things most people don't think about in this digital age is having cash on hand," she states.
"Because you talk about man-made or natural disasters is very easy for power to go out we think about the black out a few years ago a lot of people needed groceries we are all used to using our debit card and we don't carry cash with us."
"It can become a real stressor something I was remind people to do which is to keep some small bills in an envelope in your emergency kit."
North Bay Fire Chief Grant Love says emergencies affects us all and when responding to these situations it is important to have the community partners for resource.
"I think it's important to realize it's a community event it's not just something you know are typical every day issue it's something that affects the whole community and yes it's very important that we can include almost all of our partners during that emergency."
"Ideally you want to be prepared to look after yourself and your family for 72 hours so if you have any special medications or things that you actually need keep those things on hand and be prepared to listen for any statements that may be issued letting you know what to do in your community."
LePoudre says signing up for the red alerts is a great way to be in the know and that there is also an application available to download that has a check list that will calculate what you need the household.
What goes into a basic emergency kit:
• Water - two litres of water per person per day
(include small bottles that can be carried
easily in case of an evacuation order)
• Food - that won't spoil, such as canned food,
energy bars and dried foods (remember to
replace the food and water once a year)
• Manual can opener
• Flashlight and batteries
• Candles and matches or lighter
• Battery-powered or wind-up radio
(and extra batteries)
• First aid kit
• Special needs items - prescription
medications, infant formula or equipment
for people with disabilities
• Extra keys - for your car and house
• Cash - include smaller bills, such as $10 bills
(travellers cheques are also useful) and
change for payphones
• Emergency plan - include a copy in your kit,
and photocopies of personal documents, such
as passport and birth certificate.