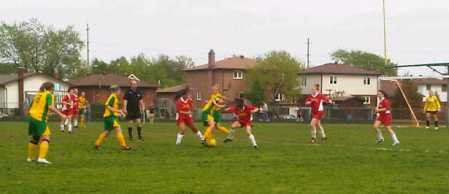 Steve Omischl Sports Complex will have some competition.
The NIpissing-Parry Sound Catholic District School Board announced Thursday that Cundari Field behind St. Joseph-Scollard Hall will be upgraded to include a synthetic turf field.
The 1.5 million dollar project, which will be partially funded by the Scollard Hall Foundation, will include a new surface for the track, upgraded lighting, bleachers and goal posts.
"Some of the benefits of converting to a synthetic turf include: a shock absorbent surface, reducing injuries from impact; an environmentally friendly option, eliminating watering and the use of fertilizers; lower maintenance costs; extending the sporting season from early in the spring to late in the fall; and enhancing the ability to host Board-level, local, and regional sports events," the board stated in the press release about the project led by Mitchell Architects.
Construction is set to begin in early June for completion time set for October 2014.
"This is indeed exciting news for the Nipissing-Parry Sound Catholic District School Board," says Barbara McCool, Board Chair.
"Students are excited; they will remain on their own 'turf' as they say. School staff, parents, families, friends and the community will be able to come together in an inviting, comfortable environment."