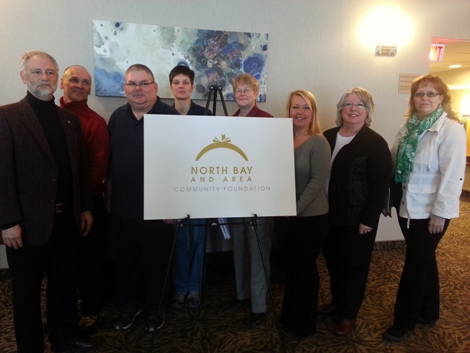 It's been a tough year for the North Bay and Area Community Foundation, but continuing their hard work without their brainchild has benefited several local organizations as part of their annual dinner kick off.
With over $8,000 in grants given out, the dinner on Friday, May 2nd gives the foundation a chance to showcase these initiatives.
"I think the best part is that a lot of the groups that are actually in North Bay, people don't know about them and they try to carry on their work with limited funding and it's hard for them to do so," said Patti Callahan, member of the grants committee and daughter of the late Jack Burrows.
"So the idea of the foundation is they provide some help for these groups to continue with their good work within the community."
Vice-chair Chris Mayne says it was about a week after having a very successful dinner last year that Burrows unfortunately passed away but they have a great board that have done their best to carry on his work.
"We still got a very good, very strong board and we're doing very well again this year and I look forward to keeping this foundation going," said Mayne, "It really is a legacy for Jack."
Callahan says it's been hard for everybody. She adds when she first joined the board, everybody kept saying 'There's an absence' and they're missing that person that headed everything up.
"He was always just kind of a rock and always there and always made sure everything was kind of moving along the way he was," she said, "I really believe that they do miss him there but he would be very happy knowing that the foundation is moving ahead and continuing to do the work that he had set out to do originally."
Pat Moulson is the former President of the Choral Society. She was on hand to accept a $1,200 grant from the Jack Burrows Fund and says she appreciates that it's all local money.
"The money is raised locally, it's distributed locally and it catches those smaller groups that fall through the cracks," she said.
"For example, the Choral Society would not have a chance of getting a grant from Avivo or one of the big distributors of grants but I took a chance and applied because I thought maybe they'd look at us."
She adds they will use the money to provide choirs in the district with music they may not have access to.
The Air Cadets are getting $1,300, which they say will be used to help their band purchase bells.
The North Bay Literacy Council will look towards buying math and grammar books with their $1,000 grant while the Canadian Mental Health Association says their thousand dollars is very helpful to them this year as they work with other agencies to sponsor a Christmas dinner for over 250 people.
PADDLE, a grassroots program will take in $3,840 to benefit a healthy living and nutrition project.
Details on the sixth grant from the Kennedy Fall Fellowship Fund will be released at a later date.
Callahan adds there will be lots of silent auctions and prizes at the dinner and overall is "just a real good fun night with a really good meal."
Mayne says there will also be videos and interviews of people supporting and is also a great opportunity for those to meet smaller groups in the community and get a sense of what they do.
"For anyone who is looking for a really nice community evening, to me, it's one of the best evenings in North Bay."
The dinner is a five-course meal at the Best Western on Lakeshore Drive. Tickets are $100 each with a $50 tax receipt and opportunities are available to sponsor a table or become an evening sponsor.
Tickets are available through any board member or by calling Kate at 705-495-3737.