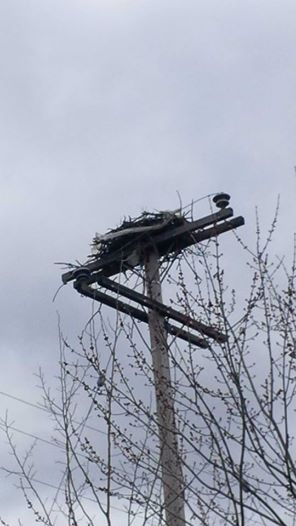 North Bay Hydro Crews had to deal with an angry family of Osprey on the weekend as they tried to repair a power line and salvage a nest on Sunday.
North Bay Hydro found out there was an issue with a conductor on a hydro pole near the Highway 11 ramp and Pinewood Park Drive late last week.
"The insulator was broken and the conductor was just hanging," noted North Bay Hydro's Chief Operating Officer Todd Wilcox.
The problem was that Hydro pole was also the same spot a family of Osprey had built a nest.
Wilcox says they elected to create a bypass, and put up a new pole, However, that still meant North Bay Hydro crews would need to do some work in a bucket truck to disconnect the damaged conductor.
He adds the move was necessary because not only could the damaged conductor kill the Osprey family, it also had the potential to cause a fire in the Pinewood Park Drive area.
On Sunday, Hydro crews had the tough job of going up to the pole in a bucket truck.
According to Wilcox, that job was not easy, as both mother and father bird became hostile.
"They come in talons first, they weren't happy," said Wilcox about the Osprey birds with an estimated 6-foot wing span.
"They would go away and calm down a bit and then bombed the bucket trucks a frew more times."
At the end of the day, the Hydro crews got the work done, removed hardware from the abandoned pole, and allowed the Osprey to return to their nest which had 1 Osprey egg in it.
"I'm proud of my guys and our linemen," added Wilcox.
"They took their time to develop a good plan and not only did we make every thing safe we helped protect the osprey nest and it's a really good story."