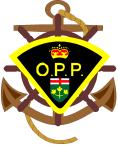 OPP News Release
*****
The Almaguin Highlands Ontario Provincial Police (OPP) is looking for a person who is interested in a summer employment position in the OPP Marine Program.

Qualifications:
As an operational position within the OPP Marine Program
candidates must be: 18 years of age,
possess a pleasure craft operators card
minimum Ontario G2 driver's licence and
CPR and First Aid qualifications
strong swimming abilities
good communication skills with positive demeanor and professional appearance
previous boating experience would be an asset
While working with an OPP marine officer, the successful candidate will learn and gain exposure to the field of law enforcement through hands-on experience in our marine program.
The successful candidate will learn marine safety and related legislation, boat maintenance, prepare reports and interact with the public as a representative of the OPP.
For more information on the marine program you may contact the detachment, however for the job application you must visit the website at, http://www.gojobs.gov.on.ca/SEP.asp summer experience program or go to the career pages of www.oppa.ca
The posting for the marine assistant position is available for application February 14 - March 2, 2014.
*****