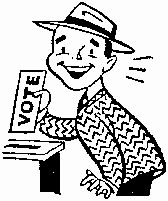 Pointing to the bloodshed and loss of life the people of Ukraine are willing to endure in order to vote, Jim Mallory, Chief Returning Officer for the riding of Nipissing says every Ontarian should exercise their democratic right to vote.
He says his office is making every effort to live up to this year's campaign slogans "We make voting easier" and "more days and more ways for you to vote," by offering a number of options to make voting accessible for every eligible citizen.
Starting today (Saturday) advance polls are open and Mallory says if you can't make those advance polls folks still have plenty of options.
"The next quickest way is to come to the special ballots incentive here at the returning office 10 until eight Monday to Saturday noon to five on Sunday right up until 6 PM the night before the election
"You know you understand they are out of town on Election Day or they have other things to deal with, but the more they (Elections Ontario) expand the opportunities to be able to cast your ballot the less reasons not cast your ballot," he tells BayToday.
"Even if you can't get out of the home because of illness or something like that a team of us will go to the home to get the ballot. It's called 'Home Visit' from special ballot and if you say that I'm in capacitated I'm infirmed whatever we'll go there. So there really is no excuse to not cast your vote in this election."
Mallory says folks only need to reflect back on the last Federal election to be reminded of why every vote counts.
"Maybe we can harken back to the last federal election in this riding when the difference in the votes was 15 after we counted 30,000 or more ballots. It pointed out very clearly that every vote is of significance and some given times it's more than of a little significance."
"In countries where people don't have this franchise ability they recognize that we've worked very hard to get it for citizens and we should make use of it and honour it as much as we can,"
Mallory says even showing ID for this election is less rigorous than that for the Federal Elections.
"Any documentation that will show you are who you are and that you live at the address that is on the voting book is sufficient."
"Unlike the federal government you do not have to have ID, but you do have to have something that will prove that you are who you say you are and that you live at the address you say you do."
Mallory says he realizes that for many folks across the region June 1st is moving day and his office will do everything they can to work with voters.
"You can sign and oath at the polling station to indicate that. Obviously you haven't had time to change some of your paperwork to indicate that."
The Returning Office is located at 570 First Avenue East in North Bay.
Advance polls across the riding are open from 10:00 AM to 8:00 PM.
And will run June 1through to June 6.
Advance Poll satellite offices are located at:
- Corpus Christi Building 1781 Cassells Street, North Bay
- North Bay Mall 300 Lakeshore Drive, North Bay
- Founders House - Nipissing University, 1 College Drive, North Bay
- Callander Legion Branch #445, 345 Landsdowne Street, Callander
- Powassan Legion Branch #453, 62 King Street West, Powassan
- 175 Brooks Street, Mattawa