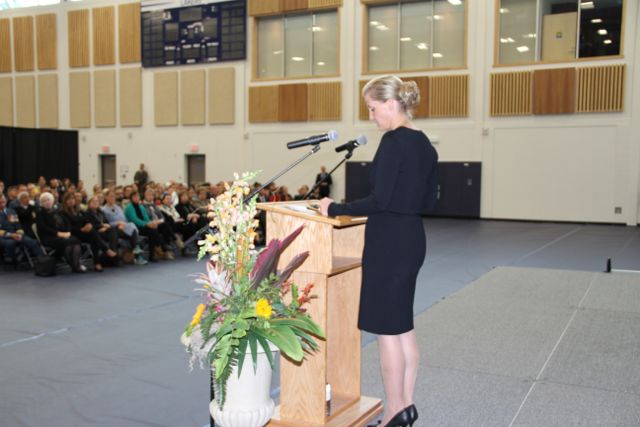 The Countess of Wessex addresses 400 guests at the Robert Surtees Center on Friday afternoon. PHOTO BY CHRIS DAWSON.
Warren Hardisty was impressed.
The 20-year-old Moose Factory student at Nipissing was amazed to hear a member of the royal family so knowledgeable about the first nations people in Canada.
"I was really eager to hear what the countess had to say along with the rest of the Ontario leadership on what they thought of Aboriginal education, treaty relations and all that stuff," he said.
Hardisty was one of the 400 guests at Nipissing University Friday afternoon who took part in the Countess of Wessex's, Sophie Rhy-Jones' visit to North Bay. The wife of the Queen's youngest son, Prince Edward, spoke at the Robert Surtees Center to conclude a 3-day tour of northern Ontario which included a visit to the remote First Nation's community of KI (North of Thunder Bay).
The Countess spoke highly of her visit to northern ontario and her visit to KI.
"It's my hope that following our visit to KI there will be further opportunities which will arise where we've made work to replicate the good examples more widely, perhaps bringing existing organizations together to explore what more can be done not only in KI but with many other aboriginal communities," said the Countess during her speech.
While touching on education and treaty rights, she also talked about the value of First Nation's languages.
"I have learned how important the native languages in the different communities are. Yet these languages are being rapidly lost," she said.
"Language is what often defines us as a people. it is part of our history and who we are. And especially within communities where language is not being documented but passed from generation to generation verbally, it is vital that we ensure survival of these dialects. this is not a move to create division between people but a celebration of difference and a way of enriching all the people of Canada and its heritage."
Hardisty realizes that it's a problem.
"I was quite surprised she touched on that considering she is from so far away and what not. It is important to me as well because to be honest I don't know my native language, neither of my brothers or my sisters do and neither do any of my parents. It's people like my grandparents who are getting to age now and they cannot pass on these traditions so where does that leave me? Where does that leave my brothers and sisters? Where does that leave my kids and my grandkids? It's really important that we pass on our traditions and keep our culture alive."
This is the Countess' twelfth visit to Canada, but this was her first to a fly-in community in Ontario.
While the focus of her northern ontario visit was to visit KI, Nipissing officials say the Countess visited Nipissing because she wanted to visit a post secondary institution that had interest in aboriginal issues.
First Nations student Warren Hardisty talks to the media after the Symposium. PHOTO BY CHRIS DAWSON.