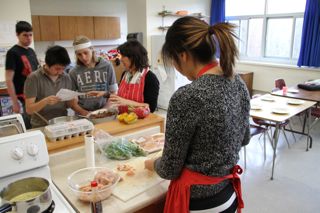 A Nutrition class at Chippewa Secondary School participated in Food Revolution Day on Friday morning.
The event, created by famous chef Jamie Oliver is taking place in more than 80 countries.
Nutrition teacher and event organizer Jessica Bradford got the students working on a plan and budget as the students were responsible for buying the food and staying under budget.
"It's create to create attention and awareness for students and children so they can create healthy food from scratch, they can be in control of their own nutrition and they can enjoy it and they are enjoying it," said Bradford.
The meal today included spicy chicken nachos, a vegetarian baked pasta, a fruit salad, chocolate cake and strawberry-banana smoothies to drink.
The students purchased all the goodies on Wednesday at Sobey's
Bradford says the students also had to meet Canada's Food Guide recommendations with their food choices.
Student Joran Seguin-Cross was excited about the unique project.
"It makes sure everyone is fed healthy and getting good food into them and we know what good food tastes like," said the grade 9 student.
On top of the cooking and baking, the students were also responsible for serving the dinner and of course, the funnest part, cleaning up.
For more information on the international event go to www.foodrevolutionday.com