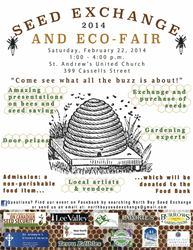 North Bay Seed Exchange and Eco-Fair
News Release
*****
Who: Designed for the home gardener and/or gardening enthusiast
What: 2014 North Bay Seed Exchange and Eco-Fair
Entry to this event is free but we encourage attendees to bring an non-perishable food item for the food bank.
This year we are proud to have two exceptional presentations. The first is given by one of our local Master Gardeners on the topic of seed saving. We also have the wonderful farmers from Creekbend farms who will be taking about bees and pollination.
As always, we will also provide a space for the exchange/purchase of seeds, along with gardening experts on-hand. If you don't have seeds to trade in the seed exchange room you can still buy some for $0.25 a package. Please label your seed packages with as much information as you would find on a commercial seed package.
We also have terrific door prizes to give away, including a self-watering seed starter kit, gift certificates, and much more!
We will also have a room full of local vendors which sell anything from seeds to CSA shares and everything in between.
Where: St. Andrew's United Church, 399 Cassells Street , North Bay, ON
When: Saturday, February 22, 2014 from 1:00 - 4:00 p.m.
Why: Many reasons, namely, one can see growing food in our garden as a way of securing our own food sovereignty (political) or as a way to benefit from the great outdoors (active living/fitness) or even, my favourite, strengthening human ties through the simple act of talking to each other about gardening and our collective experience with this hobby (community aspect)
*****