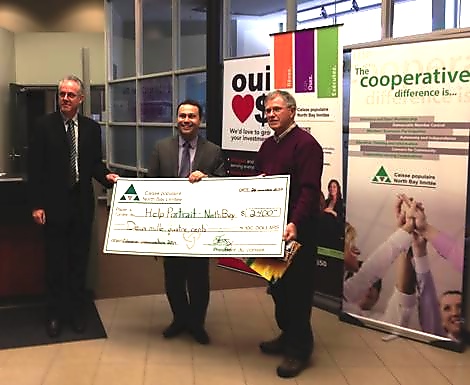 For the second year in a row, Caisse populaire North Bay is showcasing local photography, our beautiful region, and helping a great cause. Photo provided.
Caisse populaire
News Release
*****
The 2014 Caisse Calendars are free, and are given out to members and groups in the city.
They feature local images taken by area residents.
Every page is sponsored for $200 by a generous area business, and all of the funds raised go to a local non-profit organization.
The 2014 recipient of $2,400 is the Photo Group North Bay, which is part of a worldwide initiative called Help-Portrait.
The group consists of volunteer photographers, hair stylists and make up artists. They gather together, and in one day will supply 70 local families with a free, professional-quality photo shoot.
They also provide a framed and matted family portrait to people who wouldn't be able to afford it otherwise; just in time for the holidays.
This year's families have already been selected with the help of local agencies and service providers.
They will gather on December 1st to pose for their photos, receiving their portrait on the same day.
"This is just one way we give back to non-profit groups in our community" explains Caisse populaire General Manager Norm St Amour.
"We also assist non-profit organizations by charging no service fees when they do business with us."
"It's wonderful to be able to help the great volunteers of the local Help Portrait effort" says Caisse populaire Board President Éric Foisy.
"They're doing something unique, generous, and giving a truly lasting gift to these families and neighbors. It's an honor to have our Caisse Calendar campaign assist their project."
*****