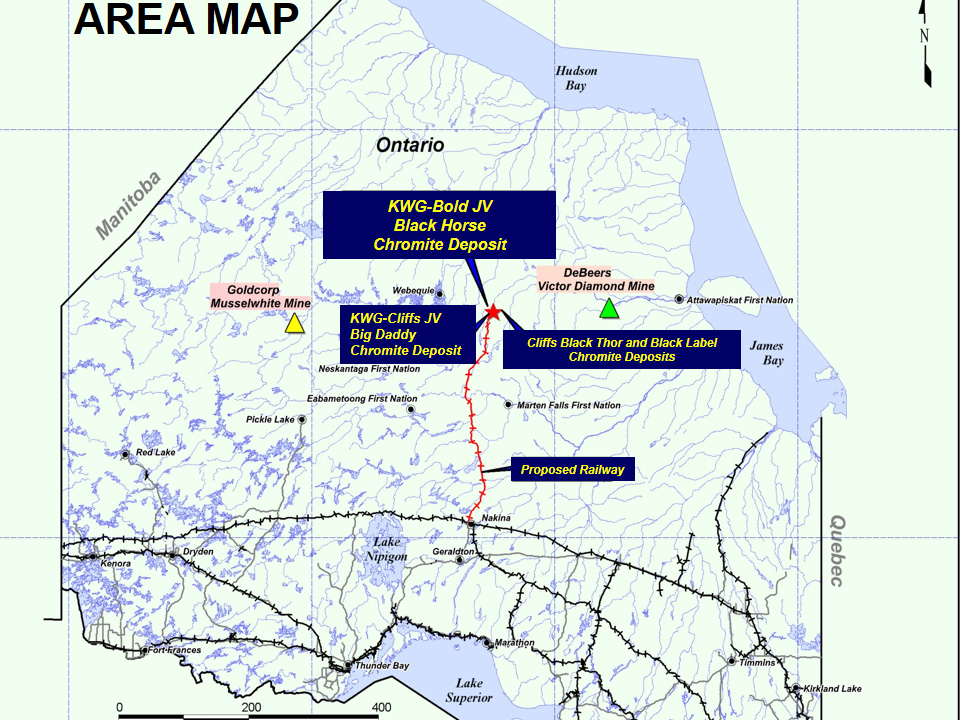 Map courtesy KWG Resources
A major player in the Ring of Fire development, KWG Resources, has come out strongly in favour of using the ONTC to move ore from its proposed mine to market.
Development of the Ring of Fire would have a major impact on North Bay's economy because of the large number of mining support companies located here.
The company has asked all candidates running in the provincial election to pledge support for the Ring Of Fire - Northern Ontario Job Creation Plan.
Company President Frank Smeenk told reporters that "Ontario already has a Northern Development Corporation...and it's the ONTC.which is a part of the Ontario Ministry of Northern Development and Mines."
https://www.youtube.com/watch?v=G6DQX2sKhoU&feature=youtu.be&a
Smeenk says in a news release that the principal operating asset of the ONTC is the Ontario Northland Railroad, which has become starved of freight haulage as Ontario's forestry and mining industries have shrunk through many years.
"The discoveries of chromite and nickel in the Ring of Fire could create the potential for much heavy-haulage freight business with which the ONR might become economically viable. For the Ring of Fire, the ONR thus constitutes the very essence of the purpose of a public utility!"
"If the ONTC were made into a non-share capital corporation similar to Canada's Port and Airport Authorities, it could be governed by the northern residents of Ontario whose communities it serves. This would enable an important participation by many of those communities which are First Nations."
"It might raise project finance in the capital markets with which to add to the heritage railroad assets, roads, pipelines, common mine plant, electricity generation and transmission facilities desired by the affected communities. This would enable development to be undertaken with the necessary social licence together with the discipline of the capital markets, rather than from the public purse."
Smeenk says for these reasons his company wants each candidate to create the THE NORTHLAND DEVELOPMENT CORPORATION by passing the bill after the election.
An overview of the proposed bill can be viewed at http://www.northlanddevelopmentcorporation.com.
The proposed bill can be viewed at http://www.northlanddevelopmentcorporation.com/ndca.html.
A PDF of the proposed bill can be viewed at http://www.northlanddevelopmentcorporation.com/pdf/Northland_Development_Corporation_Act.pdf.
A link to the KWG press conference with Frank Smeenk held prior to the Northern Ontario leaders' debate.http://bit.ly/1pbvy46
Frank Smeenk was interviewed on CBC Radio Thunder Bay:http://bit.ly/1h6wuVo
A CTV overview of the KWG/ONTC proposal http://bit.ly/SGqCa5
KWG Resources is an exploration stage company that is participating in the discovery, delineation and development of chromite deposits in the James Bay Lowlands of Northern Ontario. These deposits are a globally significant source of chromite which may be refined into ferrochrome, a principal ingredient in the manufacture of stainless steel.