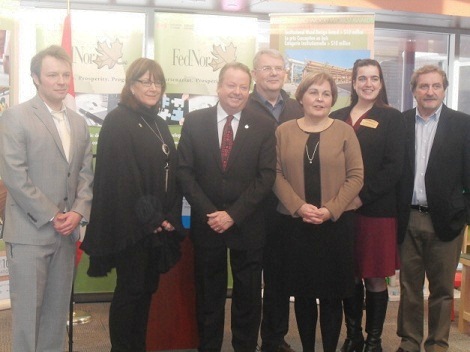 Thanks to the Federal Economic Development Initiative in Northern Ontario (FedNor), $600,000 has been put into place to help support the Canadian Wood Council's WoodWORKS! Program.
The funding, announced during a press conference on Friday at One Kids Place, is designed to enhance and strengthen the regional economy with regards to Ontario's forestry and wood products sector.
The WoodWORKS! campaign positions wood as an excellent choice and best value of building material for all types of construction and this strategic initiative helps diversity the industry while creating growth and sustainability in Northern Ontario communities.
The FedNor funding, announced by Nipissing-Timiskaming MP Jay Aspin, is designed to promote sustainable community development and enhance business development and growth while facilitating innovation throughout the region and construction industry.
The Ontario forestry sector, which contrinutes over $4 billion annually to Canada's economy, is the second largest industrial sector in the province, and the FedNor initiative will set out to help 150 small to medium sized businesses throughout the region.
Since its inception 14 years ago, Ontario WoodWORKS! has helped promote the use of woods in more than 170 construction projects across Ontario and create and maintain 470 jobs in the process while increasing wood sales through out the province.
Aspin says that the large monetary contribution from FedNor, to which the program will receive in increments over a two-year period, will help maximize the economic potential of Northern Ontario's forest and wood industry.
"This targets exactly the kind of terrain that we have in abundance in Northern Ontario," he says, adding that the program has been very successful in creating jobs for residents and he looks forward to making it even more successful in the future.
Aspin made the announcement in the foyer of One Kids Place to highlight a local project where wood has been used in innovative ways as a building material to create an atmosphere and ambiance that no other material can provide in the field of construction.
"It's immediately welcoming and that's good because kids are here and you get a great feeling when you enter this facility," Aspin says.
He also pointed out the affordability and practicality of combining wood products and other materials such as brick into the design of major architectural projects to create both form and function in a way that performs a task while creating warmth.
Aspin spoke highly of Nipissing-Timiskaming MPP Vic Fedeli, for bringing an amendment request forward to alter the building code, which will allow an extension of the maximum stories of a wood frame building from four floor to six, and says that that it will only increase the demand for sustainable forest products, continuing to help the economy, particularly in Northern Ontario.
"That's a very positive move," says Aspin.
As a one time member of the Ontario Municipalities Board, Aspin saw the WoodWORKS! program first begin with a single member, who brought the idea of increased marketing and demand of Ontario wood products to the attention of government.
"Personally, this is really gratifying to me, to see a program like this grow," he says.
Marianne Berube, the Executive Director for Ontario WoodWORKS!, the first single member that Aspin spoke of, says the FedNor announcement is important as the funds will not only provide support to the industry but will also help the organization promote 'awareness and education' of the wood sector.
"It's been tough times over the last few years," Berube says, "but we're seeing a bright future, with a lot of new innovation and products, which is creating new markets for our wood industry in Northern Ontario."