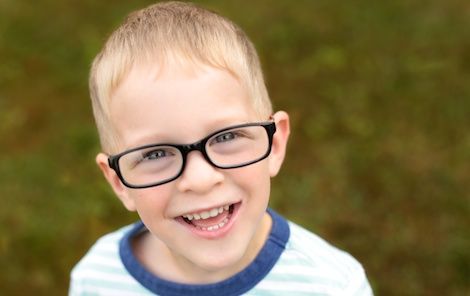 Reed Sauve needed glasses at a young age. A new program is trying to give more incentives to parents to bring they 5-year-olds in for an eye exam. PHOTO COURTESY KIMBERLY SAUVE PHOTOGRAPHY.
Kim Sauve says that glasses have changed her son's life.
The North Bay mother says they brought their 5-year-old son Reed in to the optometrist to have and eye exam prior to starting Kindergarten last fall.
"We didn't even realize it but he was very clumsy as a toddler. He would kind of fall off chairs randomly and his depth perception was off," Kim stated describing her son before he got glasses.
Sauve says now that Reed has glasses, they have noticed he's become more interested in letters and numbers.
"It's funny because when he first got his glasses, he would take them off and on and he would say, 'the letters are big, the letters are small.'"
Dr. Kristen Kincaid, a local optometrist in North Bay says all Ontario children are eligible for a free eye exam once a year. She says its important for all parents to take pre-schoolers for an eye exam before they begin kindergarten in the fall.
A new non-for-profit program in Ontario is making going to that eye exam even more appealing.
"Eye See… Eye Learn" as its called, is a non-for-profit program that will allow children born in 2011 to receive free glasses after an eye exam.
The program begins in North Bay on July 1st.
Dr. Kincaid will be offering the program out of her office. She is also on the provincial Eye See Eye Learn committee.
"We set up the appointment, they come in for the eye exam and if the child does need glasses then they will receive one free pair of good quality glasses to get them started off on the right foot for kindergarten in the fall," she said.
Sauve wishes she could have accessed the new program.
"I think its amazing and we would have certainly benefitted from it because all of a sudden we have a child who requires glasses and it can be a financial hardship for some families because we don't have health benefits," admitted Sauve.
"Glasses can cost up to $300 or $400 and that can be overwhelming for a family."
Any young families with 2011 birth year children heading to kindergarten can find out more about the program by checking out their website at www.eyeseeeyelearn.ca