Objibway Women's Lodge Front Line Social Worker, Amanda Bellefeuille gives a presentation on Missing and Murdered Indigenous Women.
Canadore's 25th Annual Pow Wow celebration took place Friday on traditional lands of Nipissing First Nations, at the North Bay college. The days schedule included community teach-ins, special speakers and workshops.
Canadore Elder Lorraine Liberty began the day with Water Teachings. Sidd Bobb provided an Improv Workshop.
Amanda Bellefeuille gave a presentation at the Weaver Auditorium: Missing and Murdered Indigenous Women. Bellefeuille is a front line social worker with the Ojibway Women's Lodge. She says "We need to figure out what our prevention methods are going to be. It starts in the home, raising children to be respectful."
A 2013 RCMP national operational overview reports 167 indigenous women went missing and 1017 women of First Nations were murdered between 1980 and 2012.
Bellefeuille said "At no time does a woman deserve violence."
She explained that survivors of the residential school system became broken family units. "Daughters of previous victims of violence become victims. When children see that the mother is not respected in the home, they will not ask for respect for themselves."
Bellefeuille instructed on having a safety plan with points such as informing someone you trust about your exit plan and having copies of your ID with some cash in a strategic place.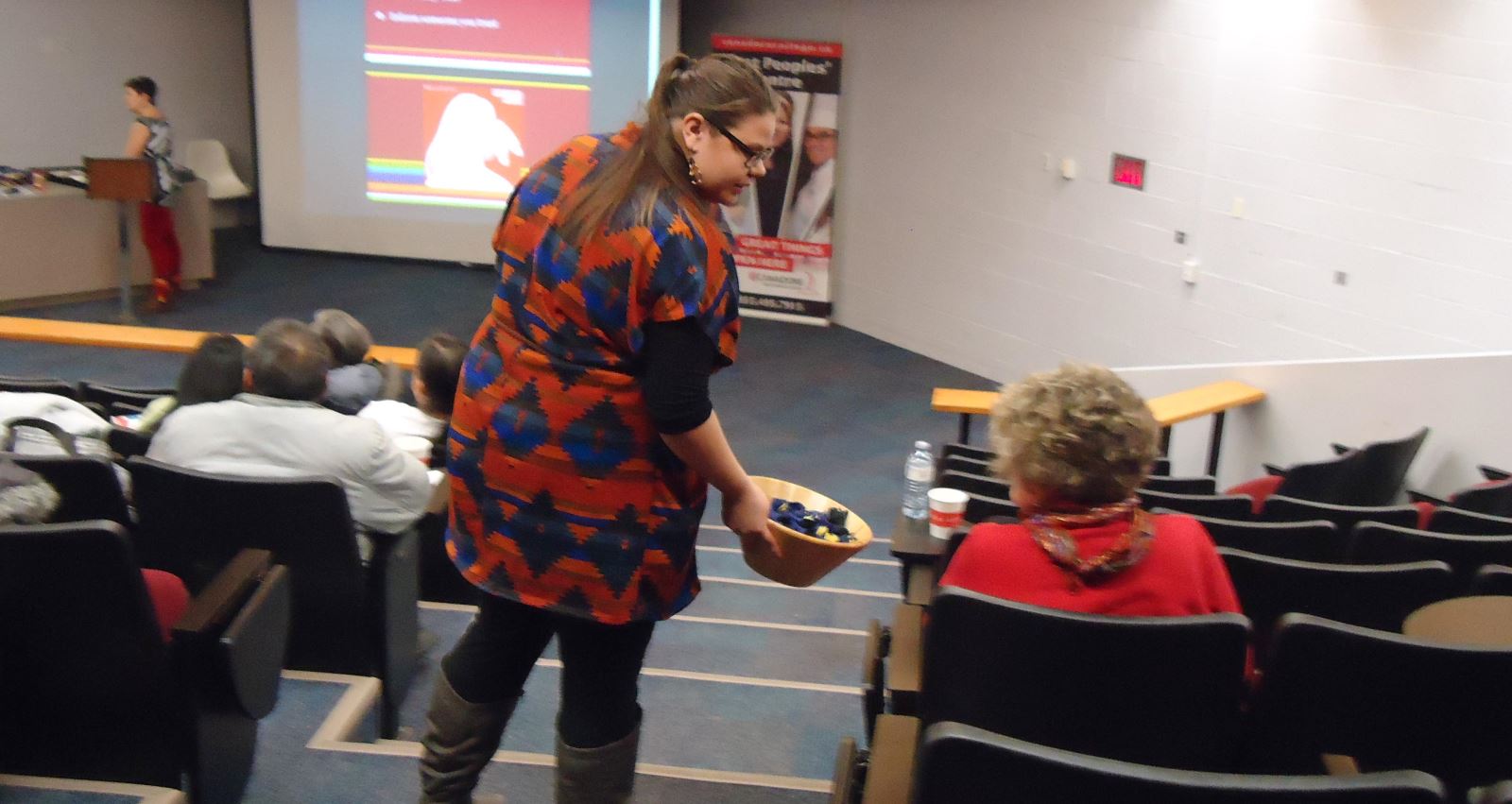 Crystal Clark-McGregor, with the Canadore Student Council and Canadore Aboriginal Association, passes out pouches of tobacco as an aid for healing.
Guest speaker, award winning author and poet Lee Maracle took the podium next saying, "People of First Nations are survivors of genocide." Maracle spoke of the violence that came first from colonists.
Maracle shared her great laugh and history of trying to break taboos for change. "We went to a bar in Edmonton and we were told 'We don't serve Indians.' I said I didn't want an Indian, I just want a beer. He laughed and served us a beer."
Maracle spoke of her passion for communicating hard truths with language. "If I had hard things to say, I had to use beautiful words."
And when asked how a First Nations author could get published, Maracle replied there are more possibilities now. "When I tried to get published, two-thirds of people of First Nations couldn't read. So I offered to help people learn to read with a promise to buy my book. That was a lot of work to first get published."
Speakers and the inspired audience then moved to the new space of the First People's Centre for a feast, followed by entertainment by Nipissing Theatre.
Canadore's 25th Annual Pow Wow celebrations continue today starting at 11:30 am in the Canadore Gymnasium.